Finding halal steak and grill restaurants that meet your dietary preferences can be challenging and time-consuming. It's frustrating to go through multiple sources and reviews just to find a suitable place to enjoy a delicious halal meal.
Imagine the disappointment of craving a mouthwatering steak but struggling to find a halal option that meets your standards. The limited choices and lack of information make it difficult for halal food enthusiasts to explore the world of steak and grill cuisine.
With this Guide, you no longer have to spend hours researching or relying on unreliable recommendations. We've done the work for you, ensuring every restaurant listed meets strict halal standards without compromising taste or quality.
Whether planning a special dinner or looking for a casual spot to satisfy your cravings, our guide will help you find the perfect halal steakhouse experience. From ambiance to customer service, we provide detailed information about each restaurant so you can make an informed choice.
No more settling for subpar options or missing out on delicious meals. The ks2 Steakhouse Guide lets you indulge in mouthwatering halal steaks while confidently exploring new culinary delights.
KS2 the halal steak & grill Restaurant
KS2 restaurant, A new Halal steak and grill restaurant, has recently opened in Scarborough. Seeing more high-quality dining options in the east end of Toronto is great.

Ks2 the halal Steak and Grill Restaurant is known for its delicious grilled dishes made with halal meat. The menu boasts a variety of mouthwatering options, including steaks, burgers, and kebabs, as well as a range of sides, salads, and desserts.

The ks2 steakhouse has a cozy and inviting atmosphere, making it a perfect spot for friends and family to enjoy a meal together. The interior is tastefully designed with warm colours and comfortable seating, creating a welcoming environment for all diners.
Ks2 the halal steak & grill menu
Classic Caesar
Miami Ribs
Romaine lettuce, croutons, parmesan
Thai chilli coconut milk
Sparta Salad
Shrimp Dumpling
Arugula, olive, feta cheese
Cream miso sauce
Calamari
Tempura Shrimp
Citrus aioli
Chill Mayo
Hot pot
Mussels Calamari Shrimp
New York Striploin
Hand-selected choice of stretch
Mash potato
Rib Eye
Fries
Hand-selected choice of stretch
Asparagus
Sautéed mushroom
Lamb Shank
Crème Spanish
Pasta, carrot, sages
KS2 Chicken
Leeks, baby spinach, mushroom, Kam sauce
Cheesecake
Blackened Tandoori Salmon
Chocolate cake
Masala fried potato, raita
Chilly Shrimp
Rice noodles, pineapple
KS2 Pasta
Mocktail
Seafood Linguine
Calamari, tiger shrimp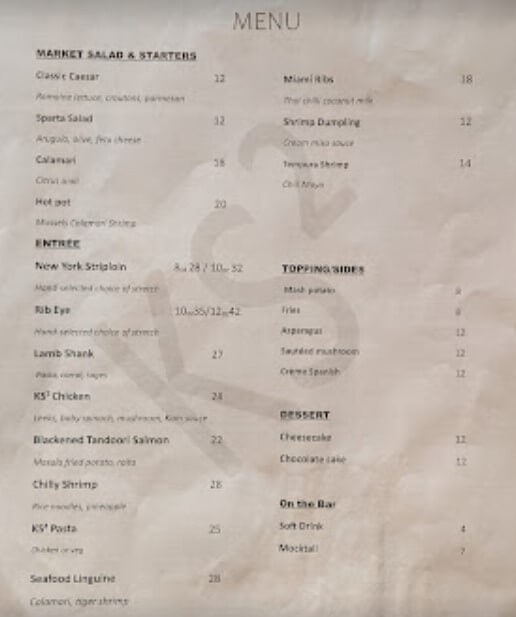 – Classic Caesar: A salad made with romaine lettuce, croutons, and Parmesan cheese.
– Sparta Salad: A salad made with arugula, olives, and feta cheese.
– Crispy Calamari: Fried calamari served with citrus aioli for dipping.
– Miami Ribs: Pork ribs with a chilli coconut milk sauce.
– Shrimp Dumplings: Dumplings filled with shrimp and served with chilli sauce.
Here are the entrée options available in KS2 Steakhouse:
– New York Striploin: Carefully chosen and served with a choice of stretch
– Rib Eye: Handpicked and served with a choice of stretch
– Lamb Shank: Served with carrots and sages
– Ks² Chicken: Served with leeks, baby spinach, mushroom, and Kam sauce
– Blackened Tandoori Salmon: Served with masala fried potato and raita
– Chilly Shrimp: Served with rice noodles and pineapple
– Penne Pasta: Served with either chicken or vegetables
– Seafood Linguine: Served with calamari and tiger shrimp.
Here are some options for ks2 grill Scarborough toppings and sides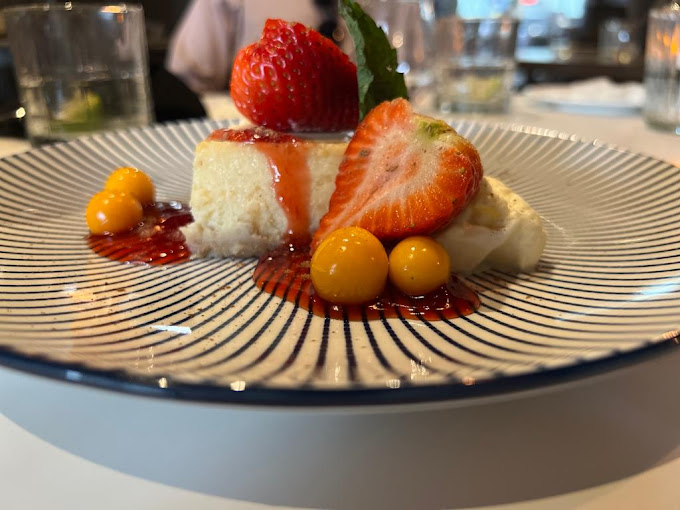 For dessert, Ks2 Grill has two options: cheesecake and chocolate cake.
 Photos
Factors to Consider When Choosing a Halal Steak and Grill Restaurant in Toronto
When searching for a halal steakhouse or grill restaurant in Toronto, it is essential to consider specific criteria to ensure a satisfying dining experience. Two key factors to focus on are the quality of meat and the cooking techniques used.
Firstly, the quality of meat plays a crucial role in determining the taste and tenderness of your steak. Look for restaurants that source their meat from reputable suppliers who provide halal-certified options. This ensures the meat has been prepared according to Islamic dietary guidelines, giving you peace of mind. Additionally, please inquire about the specific cuts of meat available and whether they offer different grades, such as Prime or Choice, as this can impact flavour and texture.
Secondly, pay attention to the cooking techniques utilized by the Restaurant. A good halal steakhouse or grill will employ methods that enhance the meat's natural flavours while ensuring it is perfectly cooked. Some popular techniques include grilling over an open flame, searing at high temperatures, or using specialized equipment like broilers or wood-fired ovens. These methods help seal in juices and create a delicious crust on the outside while maintaining a juicy interior.
In summary, when selecting a halal steakhouse or grill restaurant in Toronto, prioritize establishments that prioritize high-quality meat sourced from reputable suppliers with proper halal certification. Additionally, consider restaurants that utilize cooking techniques to maximize flavour and tenderness. Considering these criteria, you can ensure an enjoyable dining experience at a halal steakhouse or grill in Toronto.
Address and Phone Number
 641 Danforth Rd, Scarborough, ON M1K 1G1, Canada
Opening hours
Sunday 5 PM-11 PM
Monday Closed
Tuesday 5 PM-11 PM
Wednesday 5 PM-11 PM
Thursday 5 PM-11 PM
Friday 5 PM-11 PM
Saturday 5 PM-11 PM
Map
Restaurant reviews 
Muhammad Mamooji says:
Wow, fantastic service, good food, and very hospitable staff! Me and my friends came here from Cambridge, and wow, what a pleasurable experience. The interior is very tasteful, with nice decor and a cool bar-looking area.
I tried this new Restaurant on a Saturday night!

I tried this new Restaurant on a Saturday night!

Customer service was excellent! The owner went over & above to ensure that the food was fresh & good quality.

Food items ordered
1- Calamari 4/5
2- Miami Ribs 4/5
3- KS2 Chicken 5/5
4- Cheesecake 4/5

Overall, the experience was incredible; seeing more halal restaurants coming to Scarborough is good
Small but lovely decor gives it a cozy, comfortable feel. Service was excellent, especially from the owner, who was hands-on and engaged with the customers. Everything I had was delicious, no complaints. Even the side of bread was a lovely part of the dining experience. It's a small menu, but I look forward to returning to try other menu items.
It's located on the outer part of the Hockey training facility, which was pretty busy for the players and parents present.
It was my first time visiting the place, and it is a must-visit. The food was incredibly delicious, and every bite had a unique taste I have not found elsewhere in Scarborough. The service was relatively quick and, most importantly, excellent. I spoke with the owner, and he was very friendly, asking me regularly about the food. And I think it was a 5 out of 5, without any doubt.
Great place for halal food. We tried the beef ribs, calamari, chicken, steak and cheesecake. All of them had very unique seasonings and sauces. I loved all of it, and there were no leftovers. I can't wait to go back again.
Tasnia H says:
Finally, I found an excellent halal place for steak!! This place deserves more than five stars! The food is incredibly delicious, well-cooked and nicely presented. Staff are very welcoming, respectful and courteous! They go above and beyond to meet your expectations! Try their mocktail; it's very refreshing! The menu offers a variety of options.
I am looking forward to trying other items in the future!
It is easily accessible by public transit, and plenty of parking is available.
They have a patio as well. It would be a great place to enjoy steak outside in the Summer! The Restaurant is well decorated, with comfortable sofas and the perfect ambience for a relaxed dinner!
It makes me feel so proud to be a Bangladeshi Canadian and to find such a great restaurant in Scarborough! Wishing the team all the best!

Latest posts by EnjoyLivingCanada
(see all)