The Irresistible Allure of Breakfast Sandwiches and Their Popularity in Toronto
Breakfast sandwiches have become a popular food trend in Toronto, particularly among individuals looking for convenient and fast grab-and-go breakfast choices. Delicious morning meals offer a satisfying and energizing combination of flavours and textures. They are the perfect choice for busy individuals who want to start their day off right.
As a bustling city with a fast-paced lifestyle, Toronto has seen increased demand for breakfast sandwiches. They provide the ultimate solution for those who are always on the move and need a hearty meal to enjoy on the run.
What makes breakfast sandwiches so appealing is their versatility. They can be customized to suit individual preferences, with various options for fillings such as eggs, bacon, sausage, cheese, vegetables, and even unique ingredients like avocado or sriracha sauce. This allows people to personalize their morning meals according to their taste buds and dietary requirements.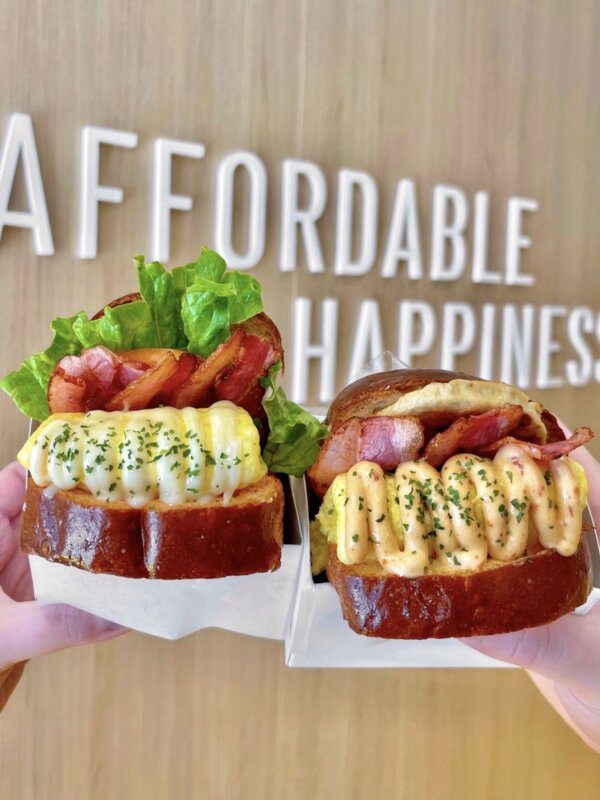 In addition to being delicious and customizable, breakfast sandwiches also offer convenience. Many establishments in Toronto now offer grab-and-go options where customers can quickly pick up their favourite breakfast sandwich without waiting in long lines or cooking at home. This saves time and energy for busy individuals who need a quick yet satisfying meal before starting their day.
Moreover, these sandwiches cater to different dietary needs as well. With the increasing popularity of plant-based diets, more restaurants and cafes in Toronto now offer vegetarian or vegan options for breakfast sandwiches. This ensures everyone can enjoy this popular food trend regardless of dietary choices.
Breakfast sandwiches have become one of the most sought-after grab-and-go breakfast options in Toronto due to their deliciousness, versatility, convenience, and ability to cater to different dietary needs. Whether you're an early riser rushing off to work or exploring the city as a tourist, grabbing a tasty breakfast sandwich is an excellent way to kickstart your day with flavour and energy.
 Delicious Variations for Every Breakfast Palate in Toronto
1. Lazy Daisy's Cafe – A Hidden Gem in Toronto's Café Scene

Are you looking for the best coffee in Toronto? Look no further than Lazy Daisy's Cafe. Nestled in the city's heart, this charming café offers a cozy and inviting atmosphere that will make you feel right at home.
Lazy Daisy's Cafe is renowned for its exceptional coffee. Whether you prefer a classic espresso or a creamy latte, their skilled baristas will expertly craft your beverage. The coffee beans are carefully sourced and roasted in-house, ensuring each cup is rich in flavour and aroma.
But it's not just the coffee that makes Lazy Daisy's Cafe stand out. The café exudes warmth and comfort with its rustic décor, comfortable seating, and soft lighting. It's the perfect place to unwind with a good book or catch up with friends over a hot cup of joe.
In addition to their stellar coffee, Lazy Daisy's Cafe offers a delectable selection of pastries and light bites in addition to their stellar coffee. From freshly baked croissants to homemade muffins, there's something to satisfy every craving.
Lazy Daisy's Cafe is ideal whether you're seeking a quiet spot to work or enjoy some quality downtime. With its friendly staff and relaxed ambiance, it has rightfully earned its reputation as one of Toronto's best cafés.
So, next time you crave exceptional coffee in an inviting setting, visit Lazy Daisy's Cafe. You won't be disappointed!
2. Egg Bae – A Must-Visit Spot for Egg Lovers in Toronto
Are you looking to satisfy your breakfast cravings with unique and delicious egg dishes? Look no further than Egg Bae Toronto! This trendy café in Toronto offers a delightful culinary experience that will leave you wanting more. In this review, we'll explore the highlights of Egg Bae Toronto, from their innovative menu featuring mouthwatering egg creations to the ambiance that makes this café a must-visit spot for food enthusiasts in the city.
So, if you're ready to embark on a gastronomic adventure, let's dive into what makes Egg Bae Toronto a standout destination for all egg lovers. Egg Bae Toronto is a must-visit café for anyone looking to satisfy their breakfast cravings with unique and delicious egg dishes. The menu at Egg Bae Toronto is genuinely innovative, featuring mouthwatering egg creations that will tantalize your taste buds. One of the highlights of Egg Bae Toronto is its commitment to using high-quality ingredients.
They source their eggs from local farms, ensuring that each dish is made with fresh and flavorful eggs. Whether you prefer classic scrambled eggs or want to try something more adventurous, like their signature Egg Bae sandwich with Korean fried chicken, you can expect a burst of flavour in every bite.
In addition to their delectable menu, the overall ambiance at Egg Bae Toronto adds to the delightful culinary experience. The café has a trendy and inviting atmosphere, making it the perfect spot for food enthusiasts in the city. Whether dining alone or catching up with friends over brunch, you'll feel right at home in this cozy setting. If you're an egg lover or simply someone who appreciates unique and delicious breakfast options, Egg Bae Toronto should be on your list of places to visit.
Their innovative menu and inviting ambiance make it a standout destination for all those seeking a gastronomic adventure. So why wait?
Head over to Egg Bae Toronto and treat yourself to an unforgettable breakfast experience filled with mouthwatering egg dishes that will leave you wanting more!
3. Gold Standard – Elevating Coffee Culture in Toronto
Welcome to the world of specialty coffee in Toronto, where the Gold Standard café stands out as a haven for coffee enthusiasts. Nestled in the city's heart, this café is renowned for its dedication to artisanal coffee brewing methods and its commitment to delivering exceptional flavours.
The Gold Standard café takes pride in sourcing only the finest beans from around the world. Their expert roasters meticulously hand-select each batch, ensuring every cup of coffee is an authentic sensory experience. From single-origin beans to unique blends, their menu offers various options to suit every palate.
What sets this café apart is their unwavering commitment to using traditional brewing methods. They employ pour-over, siphon brewing, and French press to extract each bean's full potential. This meticulous approach helps preserve the nuanced flavours and aromas that make specialty coffee so sought after.
Not only does the Gold Standard café excel in crafting exceptional coffee, but it also places great emphasis on creating a welcoming environment for its patrons. The ambiance is warm and inviting, with cozy seating areas and soft lighting that create an atmosphere perfect for enjoying a cup of joe or catching up with friends.
Whether you're a seasoned coffee connoisseur or simply looking for an elevated caffeine experience, the Gold Standard café should be at the top of your list. Their dedication to quality, expertise in artisanal brewing methods, and commitment to providing an exceptional customer experience make it a true gem within Toronto's specialty coffee scene.
4. Forno Cultura MOCA – The Perfect Blend of Art and Coffee
Located inside the renowned Museum of Contemporary Art (MOCA), Forno Cultura offers a delightful fusion of art and culinary experiences. This charming café gives visitors a taste of Italy through authentic Italian-inspired pastries and coffee. Forno Cultura is the perfect destination whether you are an art enthusiast exploring MOCA's exhibits or simply looking for a cozy coffee spot.
The pastries at Forno Cultura are carefully crafted with traditional Italian techniques and high-quality ingredients. From flaky croissants to delectable cannoli, every bite is an indulgence in rich flavours and delicate textures. The skilled pastry chefs at Forno Cultura take pride in their creations, ensuring that each pastry is made with precision and passion.
Complementing the pastries is an extensive selection of coffee options that will satisfy even the most discerning coffee lovers. Forno Cultura takes great care in sourcing their beans, ensuring that only the finest quality is used for their brews. Each cup is expertly prepared to deliver a memorable and aromatic experience, from classic espresso to velvety cappuccinos.
Beyond its culinary offerings, Forno Cultura also boasts a cozy atmosphere that perfectly complements its location within MOCA. The café's design combines modern aesthetics with warm accents, creating a welcoming ambiance for visitors to relax and recharge. Whether you enjoy your treat indoors or prefer outdoor seating overlooking MOCA's stunning architecture, Forno Cultura provides the ideal setting for solitude and socializing.
If you explore MOCA or crave Italian-inspired delights, visit Forno Cultura. With its exquisite pastries, meticulously crafted coffees, and inviting atmosphere, this café offers an unforgettable experience that seamlessly blends art appreciation with culinary indulgence.
5. Egg Club – Where Brunch Dreams Come True in Toronto
If you're searching for a unique and delicious brunch spot in Toronto, look no further than Egg Club café. Nestled in the city's heart, this hidden gem is known for its creative egg-based dishes that will leave your taste buds satisfied and craving more.
Egg Club café takes the humble egg to new heights, offering a menu of innovative and mouthwatering creations. Whether you're a fan of classic dishes or prefer to try something out-of-the-box, this café has something for everyone.
One standout dish at Egg Club café is their signature Eggs Benedict with a twist. Instead of the traditional ham or bacon, they offer options like smoked salmon or avocado. The perfectly poached eggs are served on a fluffy English muffin and topped with their homemade hollandaise sauce that adds just the right amount of tanginess.
Egg Club café offers a Mexican-inspired dish called Huevos Rancheros for those who crave a little spice in their brunch. This flavorful plate features fried eggs served on crispy tortillas with refried beans, salsa, cheese, and guacamole. It's a fiesta of flavours that will transport you straight to Mexico.
If you're feeling adventurous, try their Scotch Eggs – hard-boiled eggs wrapped in sausage meat and coated in breadcrumbs before being deep-fried to perfection. These savoury delights are served with a dipping sauce that adds flavour.
Aside from their creative egg dishes, Egg Club café also boasts a cozy atmosphere with friendly staff who are always ready to make your dining experience enjoyable. The modern yet rustic décor creates an inviting ambiance perfect for catching up with friends or enjoying alone with a good book.
So next time you're in Toronto and looking for an exceptional brunch spot, visit Egg Club café. Its inventive egg-based dishes and warm hospitality will become your go-to destination for a memorable brunch experience.
6. Black Cat Espresso Bar – A Cozy Corner for Coffee Aficionado
If you're searching for a cozy and inviting cafe in Toronto, look no further than Black Cat Espresso Bar. This hidden gem will surely please any coffee lover with its specialty espresso drinks and relaxed ambiance.
Black Cat Espresso Bar is renowned for its expertly crafted espresso drinks. Whether you're a fan of classic cappuccinos or prefer unique creations like lavender lattes, their skilled baristas will satisfy your cravings with their attention to detail and dedication to quality. Each sip combines rich flavours and velvety textures, making every visit an indulgent experience.
Beyond the exceptional coffee offerings, the ambiance at Black Cat Espresso Bar enhances the overall enjoyment. The interior boasts a cozy yet modern design, with exposed brick walls and comfortable seating that invites you to stay awhile. The warm lighting creates an intimate atmosphere perfect for catching up with friends or diving into a good book while sipping your favourite beverage.
In addition to its delightful coffee selection and inviting atmosphere, Black Cat Espresso Bar stands out for its commitment to sustainability. They prioritize sourcing their beans from ethical suppliers who prioritize fair trade practices and environmentally friendly methods. This dedication ensures that you support responsible businesses and adds an extra layer of satisfaction, knowing that your cup of joe has been sourced conscientiously.
Located in the heart of Toronto, Black Cat Espresso Bar is a must-visit destination for anyone seeking a memorable cafe experience. Whether you need an energy boost or want to unwind in a welcoming environment, this Cafe's specialty espresso drinks and relaxed ambiance make it the perfect spot to escape city life's hustle and bustle.
7. Coco's – Your Go-To Spot for a Cup of Joe with Character
Welcome to our Coco's Cafe review, where we explore the delightful experience of this charming coffee shop. One of the standout features of Coco's Cafe is its unique and diverse range of coffee flavours. Coco's Cafe takes pride in offering patrons an exceptional coffee experience with a menu that goes beyond traditional offerings.
From rich and bold espresso blends to smooth and creamy lattes, Coco's Cafe goes above and beyond to cater to every coffee lover's palate. What sets them apart is their dedication to experimenting with unique flavours that are not commonly found in other cafes. Whether you're in the mood for a refreshing lavender-infused latte or a decadent caramel macchiato with a hint of sea salt, Coco's Cafe has something for everyone.
Beyond its extraordinary coffee creations, Coco's Cafe boasts a vibrant and welcoming atmosphere that adds to its charm. The Cafe is adorned with stylish decor, comfortable seating arrangements, and ample natural light – creating an inviting space for customers to relax or catch up with friends while savouring their favourite brews.
The friendly staff at Coco's Cafe further enhances the warm atmosphere by providing attentive service and making customers feel at home. Whether you're a regular or visiting for the first time, you can expect personalized recommendations based on your preferences, ensuring your visit is exceptional.
In conclusion, if you are seeking an extraordinary coffee experience with unique flavours in a vibrant and welcoming ambiance, Coco's Cafe should be at the top of your list. Don't miss out on indulging in their creative concoctions while enjoying the cozy atmosphere they have carefully cultivated for their customers' enjoyment.
8. Vilda's – A Vegan Haven in Toronto's Café Scene
Vilda's café is a hidden gem for those seeking a vegan-friendly dining experience. With its plant-based delights and commitment to ethical and sustainable practices, this café has quickly gained popularity among conscious consumers. From the moment you step inside, you are greeted with a warm and inviting atmosphere reflecting Vilda's dedication to positively impacting the environment and your taste buds. Let's delve deeper into what makes Vilda's café the go-to destination for vegans and food enthusiasts.
Conclusion: Toronto's Vibrant Breakfast Sandwich Scene Offers Something for Everyone
Toronto has recently seen a surge in the popularity of breakfast sandwiches, with a wide array of options available to satisfy every taste and dietary preference. Whether you're a meat lover, vegetarian, or have specific dietary restrictions, there is bound to be a breakfast sandwich that will tantalize your taste buds.
For those who prefer classic flavours, many local eateries offer traditional breakfast sandwiches with perfectly cooked eggs, crispy bacon or sausage, and melty cheese, all sandwiched between two toasted slices of bread. These timeless combinations will surely provide a comforting and satisfying start to your day.
However, Toronto's breakfast sandwich craze goes beyond the classics. The city boasts incredible diversity in culinary options, reflected in the variety of breakfast sandwiches. Vegetarians can enjoy mouthwatering creations that replace meat with ingredients like avocado, grilled vegetables, or tofu scramble. These alternatives cater to vegetarians and appeal to those looking for lighter and healthier options.
Moreover, Toronto's food scene has embraced the growing demand for gluten-free and vegan options. Many establishments now offer gluten-free bread or wraps as alternatives for individuals with gluten sensitivities or celiac disease. Vegan breakfast sandwiches are also gaining popularity, featuring plant-based proteins such as vegan sausages or tempeh alongside various flavorful vegetables.
Additionally, Toronto's multiculturalism shines through its diverse range of international-inspired breakfast sandwiches. From Middle Eastern flavours like falafel and hummus stuffed inside pita pockets to Asian-inspired creations with marinated meats and pickled vegetables served on steamed buns – there is no shortage of unique choices that reflect the city's vibrant cultural tapestry. Toronto's breakfast sandwich craze offers something for everyone. You can find it all in this bustling city, whether craving classic flavours or looking for innovative twists that cater to specific dietary preferences such as vegetarianism or gluten-free diets. So, why settle for a plain breakfast when you can indulge in a delicious and diverse sandwich to kickstart your day?

Latest posts by EnjoyLivingCanada
(see all)