Travellers often find themselves with long layovers or delays at airports, leaving them bored and unsure of what to do in the surrounding area.
Sitting around in an airport for hours can be incredibly dull and frustrating. You want to make the most of your time and explore the local attractions, but you don't know where to start.
Discover endless possibilities near Toronto Pearson Intl Airport (YYZ) with our curated list of things to do. From iconic landmarks to hidden gems, we've got you covered. Whether you have a few hours or a whole day, make your layover memorable by exploring the vibrant city of Toronto.
Visit famous attractions like the CN Tower, stroll through picturesque neighborhoods like Kensington Market, or indulge in some retail therapy at the Eaton Centre. With our guide, you'll never have a dull moment during your airport stay.
Top Things to Do Near Toronto Pearson International Airport (YYZ)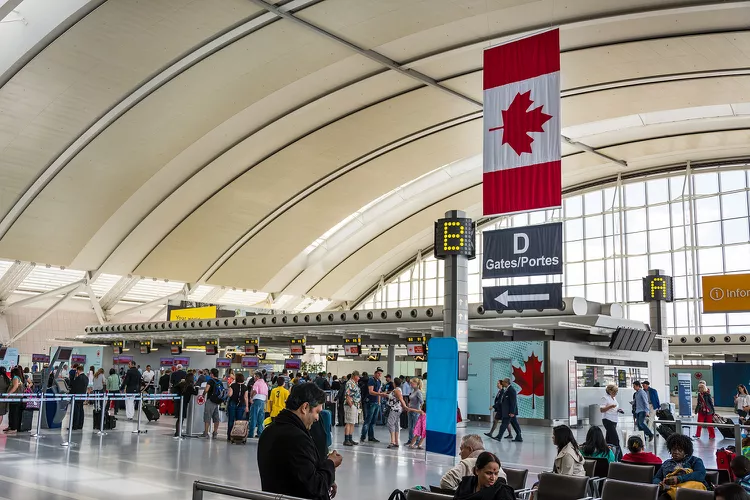 1. Visit the Royal Woodbine Golf Club
If you are a golf enthusiast looking to enjoy a round of golf near the YYZ airport or in Toronto, look no further than the prestigious Royal Woodbine Golf Club. Located conveniently near the airport, this golf course offers a memorable and captivating golfing experience for players of all skill levels.
Royal Woodbine Golf Club stands out among the many golf courses in Toronto due to its well-maintained fairways, challenging yet enjoyable layout, and breathtaking views. Designed by renowned architects, this course showcases the natural beauty of its surroundings while providing a challenging yet fair test for golfers. Whether you're a seasoned golfer or just starting out, Royal Woodbine offers an array of amenities and services to enhance your golfing experience.
Their professional staff is dedicated to providing exceptional customer service and ensuring every golfer has an enjoyable time on the course. Royal Woodbine Golf Club also boasts state-of-the-art facilities, such as driving ranges and practice greens, allowing you to sharpen your skills before hitting the course.
Whether you're looking for a relaxing solo round or planning a corporate outing with colleagues, this club has everything you need to make your experience truly memorable. With its convenient location near YYZ airport and close to downtown Toronto, Royal Woodbine Golf Club is an ideal choice for locals and visitors seeking an unforgettable golfing experience.
So why not take advantage of this opportunity to combine your passion for golf with exploring all that Toronto offers? Book your tee time today at Royal Woodbine Golf Club and prepare for an exceptional day on one of Toronto's premier golf courses.
2. Explore the Woodbine Racetrack and Casino
Woodbine Racetrack and Casino, located conveniently near the YYZ airport in Toronto, offers an exhilarating horse racing experience and a world-class casino. This renowned establishment provides a unique blend of entertainment options for visitors looking to indulge in the thrill of horse racing and the excitement of casino gaming.
As one of Canada's premier horse racing venues, Woodbine Racetrack has a rich history that spans over a century. It boasts a state-of-the-art facility with top-notch amenities for spectators and participants alike. Horse racing enthusiasts can witness heart-pounding races featuring some of the finest thoroughbreds. Moreover, Woodbine Racetrack's proximity to the Toronto Pearson International Airport (YYZ) makes it easily accessible to both local residents and travelers passing through.
Whether visiting Toronto or having a layover at YYZ, you can conveniently immerse yourself in the electrifying world of horse racing at Woodbine Racetrack. In addition to its renowned racetrack, Woodbine also houses an impressive casino that caters to those seeking thrilling gambling experiences.
The casino features a wide array of slot machines, table games, and poker rooms where guests can try their luck while enjoying exquisite dining options and live entertainment. If you're searching for an unforgettable gambling experience near Toronto Airport, look no further than Woodbine Racetrack and Casino.
With its seamless combination of horse racing excitement and first-class casino gaming, this destination will surely exceed your expectations while providing endless entertainment options for all visitors.
3. Discover the Humber Arboretum & Centre for Urban Ecology
Located in Toronto, the Humber Arboretum & Centre for Urban Ecology is a haven for nature enthusiasts and those seeking a peaceful escape from the bustling city.
This expansive space offers diverse flora and fauna, providing visitors with an immersive experience in the heart of urban life. Just a stone's throw away from Toronto Pearson International Airport (YYZ), nature trails wind through the surrounding landscape, allowing travellers and locals to reconnect with nature without venturing too far from their destinations.
These trails offer a refreshing respite from the hustle and bustle of airport life, allowing visitors to explore the natural beauty beyond the runways. For those looking to delve deeper into botanical wonders, Toronto boasts an array of stunning botanical gardens. From the renowned Toronto Botanical Garden to Edwards Gardens and Allan Gardens Conservatory, there are numerous options for immersing oneself in breathtaking displays of vibrant flowers, lush greenery, and carefully curated landscapes.
These botanical gardens serve as exquisite backdrops for relaxation and educational purposes by providing insights into various plant species and their habitats. Whether you're seeking tranquility amidst urban chaos or wishing to expand your knowledge of plants and ecosystems, Toronto offers diverse options such as Humber Arboretum & Centre for Urban Ecology, nearby nature trails near YYZ airport, as well as its enchanting botanical gardens. So step into these natural oases and let yourself be captivated by their beauty!
4. Enjoy Shopping at Square One Shopping Centre
Square One Shopping Centre, located conveniently near YYZ airport, is one of the premier shopping destinations in Mississauga, offering a wide array of retail therapy options. This vibrant shopping mall boasts many stores and boutiques that cater to all tastes and preferences.
Square One has something for everyone, from high-end luxury brands to affordable fashion retailers. As you step inside this iconic shopping center, you will be greeted by a modern, well-designed space that ensures a pleasant and inviting shopping experience. With its spacious layout and ample natural light, Square One creates a stylish and relaxing atmosphere.
Whether you're searching for the latest fashion trends, electronic gadgets, home decor items, or even gourmet food products, Square One has it all. The mall houses popular anchor stores such as Hudson's Bay and Walmart and an extensive range of specialty shops offering unique products worldwide. Moreover, Square One recognizes the importance of providing exceptional dining experiences alongside its retail therapy.
The mall features a diverse selection of restaurants and cafes where visitors can indulge in delicious meals or grab a quick bite to refuel during their shopping spree. Square One hosts various events throughout the year for those seeking entertainment beyond shopping. From fashion shows to live performances by local artists, something exciting always happens within its premises.
Furthermore, with its close proximity to YYZ airport, Square One Shopping Centre is not only easily accessible for travellers looking for last-minute purchases but also serves as an ideal stopover destination for those seeking retail therapy before or after their flights.
If you find yourself in Mississauga or passing through YYZ airport with some time to spare, do not miss the opportunity to explore Square One Shopping Centre. It promises an unforgettable retail experience where you can indulge in your passion for shopping while enjoying top-notch amenities and services.
5. Visit the Art Gallery of Mississauga
The Art Gallery of Mississauga is a must-visit destination for art lovers in the Mississauga area. This gallery is situated near the YYZ airport and showcases various contemporary art exhibitions that will captivate visitors.
Whether passing through or residing in Mississauga, exploring the vibrant and ever-evolving art scene near the airport is an enriching experience. From thought-provoking installations to cutting-edge paintings, the Art Gallery of Mississauga offers a platform for established and emerging artists to showcase their talent.
So, if you have time to spare during your travels or are simply looking for an artistic escape, check out the exciting world of contemporary art in Mississauga.
6. Explore the Heartland Town Centre
Heartland Town Centre is a thriving hub for outlet shopping enthusiasts near the YYZ airport in Brampton. This bustling shopping destination offers a wide range of stores that cater to all fashion tastes and preferences.
With its discounted prices and convenient location, Heartland Town Centre has become a destination for those looking to score great deals on their favorite brands. Whether you're searching for trendy clothing, stylish accessories, or even home decor items, this shopping haven has it all. With its diverse selection of stores and unbeatable prices, Heartland Town Centre is truly a shopper's paradise.
7. Experience Nature at Centennial Park Conservatory
Centennial Park Conservatory, located near YYZ airport in Toronto, is a magnificent botanical garden showcasing an impressive tropical plant collection. This exquisite conservatory immerses visitors in the lush greenery and vibrant colors of various species from tropical regions worldwide.
The Centennial Park Conservatory is a sanctuary for plant enthusiasts and nature lovers. Its well-maintained gardens feature an array of stunning flora, carefully curated to thrive in Toronto's climate. Visitors can expect to encounter majestic palm trees, vibrant orchids, exotic ferns, and other tropical marvels that transport them to faraway lands. Not only does the Conservatory offer a visual feast for the eyes, but it also provides educational opportunities for visitors of all ages. Expert staff members are on hand to provide valuable insights into the diverse botanical wonders on display.
Whether you're an avid gardener seeking inspiration or simply looking for a peaceful retreat from the bustling cityscape, this hidden gem offers an enriching experience for everyone. Centennial Park Conservatory's strategic location near YYZ airport makes it easily accessible for locals and travelers passing through Toronto. It is a perfect stopover or destination before or after flights, allowing individuals to indulge in nature's beauty without venturing too far from their travel route.
So, if you find yourself in Toronto with some leisure time or are passing through YYZ airport, be sure not to miss the opportunity to visit Centennial Park Conservatory. Immerse yourself in its enchanting ambiance while discovering the diverse tropical plants that call this oasis home.
Make the Most of Your Layover or Visit Near Toronto Pearson International Airport (YYZ)
If you find yourself with a layover or some free time near Toronto Pearson International Airport (YYZ), there are plenty of exciting things to do and see in the surrounding area. From exploring the vibrant city of Toronto to discovering nearby attractions, you can make the most of your time and create memorable experiences. One option is to take a short trip downtown to Toronto's bustling city center.
Here, you can visit iconic landmarks such as the CN Tower, which offers breathtaking views of the city skyline. You can also explore cultural hotspots like the Royal Ontario Museum or catch a show at the renowned Mirvish Theatre. If you prefer a more relaxing experience, consider visiting one of Toronto's beautiful parks. High Park, for example, offers stunning nature trails and picturesque gardens. You can also enjoy a picnic by Lake Ontario at Humber Bay Park or leisurely stroll along the waterfront boardwalk.
For those interested in shopping and dining, nearby neighborhoods such as Yorkville and Queen Street West offer an array of trendy boutiques, cozy cafes, and gourmet restaurants. Whether you're looking for unique fashion finds or delicious local cuisine, these areas have something for everyone. If you're craving some outdoor adventure, consider visiting Niagara Falls, just a short drive from YYZ airport. Witnessing this natural wonder up close is an awe-inspiring experience that should not be missed.
Take a boat tour to get up close to the powerful waterfalls or explore nearby wineries for some wine tasting. In conclusion, whether you have a layover or extra time near Toronto Pearson International Airport (YYZ), take advantage of all this vibrant region offers. With its diverse attractions, including cultural landmarks in downtown Toronto, tranquil parks with stunning views, and outdoor adventures like Niagara Falls just a stone's throw away – your time spent here will be truly memorable!

Latest posts by EnjoyLivingCanada
(see all)