Welcome to the ultimate guide for taco lovers in Toronto! Are you on a mission to find the best tacos in town? Look no further because we've got you covered. From authentic Mexican street food to fusion twists, Toronto has it all when it comes to delicious and mouth-watering tacos.
So get ready to indulge your taste buds as we explore some of the best places to satisfy your craving for this irresistible dish. Whether you're a seasoned taco connoisseur or just starting, there's something for everyone on our list. Let's dive into our top picks for the best tacos in Toronto!
 Toronto Tacos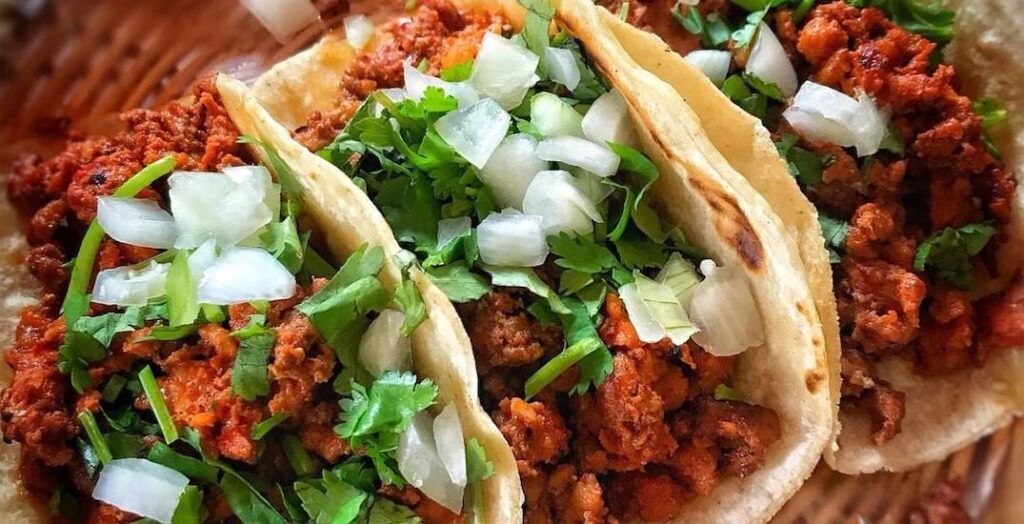 Toronto is a vibrant and multicultural city that boasts a diverse culinary scene. From international cuisine to local street food, Toronto has something to offer every food lover. Its world-famous tacos are not overlooked among the numerous delicacies that Toronto offers.
Originating from Mexico, tacos have become an integral part of Toronto's food culture. These mouth-watering treats come in various flavours, textures, and ingredients, providing a unique and delightful gastronomic experience. Whether you crave traditional Mexican flavours or experimental fusion varieties, Toronto's taco scene has it all. With an array of fillings to choose from, including succulent meats, fresh vegetables, and sizzling seafood, each taco reflects the city's diverse culinary influences.
Toronto's taco culture goes beyond just its impressive taste. It also offers a sense of community and cultural immersion. Countless taco joints and food trucks throughout the city serve as places to indulge in a satisfying meal and as meeting points for friends, families, and food enthusiasts. These establishments provide an opportunity to experience the city's vibrant energy and meet people from different walks of life.
Moreover, Toronto's taco culture is inclusive and creative, reflecting the city's cosmopolitan nature. You can find a blend of traditional Mexican recipes alongside new and innovative creations influenced by other global cuisines. Toronto's tacos have become a canvas for chefs and food entrepreneurs to showcase their culinary expertise and imagination, resulting in a diverse and ever-evolving taco experience.
This guide will take you on a flavoursome journey through Toronto's taco scene, exploring the best taco joints, unique flavours, and hidden gems that make this city a taco lover's paradise. Get ready to indulge in a symphony of flavours, textures, and aromas that will leave you craving more with every bite.
Best Tacos in Toronto
1. Casa Madera
Casa Madera is a taqueria in Toronto that serves authentic Mexican tacos. The restaurant takes pride in using only the freshest ingredients and traditional cooking methods to prepare its dishes. Casa Madera's menu offers a variety of tacos, including carnitas, barbacoa, and al pastor. Additionally, the restaurant features an extensive selection of Mexican beers and margaritas to complement your meal.
2. Seven Lives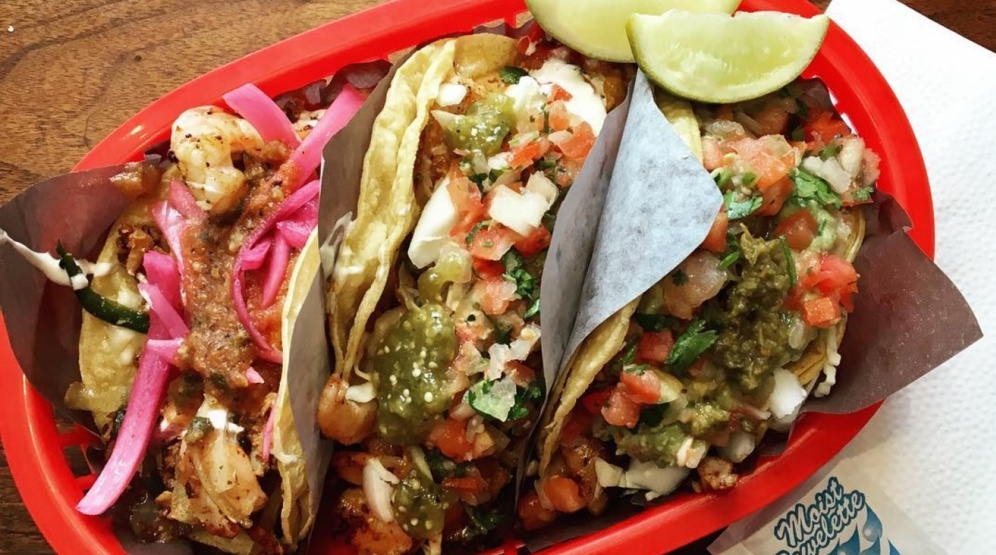 There are seven lives in Toronto, and they're all delicious. From the traditional to the modern, these tacos will have you returning for more.
Seven Lives is all about simple, authentic Mexican street food. The menu features classic staples like carne asada and al pastor tacos, all made with fresh ingredients and served up hot off the grill. Be warned – these tacos are not for the faint of heart (or stomach). They're big, they're messy, but they're worth the trip.
3. Banh Mi Boys
Banh Mi Boys is a chain in Toronto specializing in Vietnamese sandwiches known as banh mi. These sandwiches are made with various types of meat, such as pork, chicken, and beef, and are served on a baguette along with pickled vegetables, cilantro, and sriracha sauce.
The chain has multiple locations across the city, including one in the Financial District, and the sandwiches range from $4 to $7.
4. Wilbur Mexicana
If you're looking for the best tacos in Toronto, look no further than Wilbur Mexicana. This taqueria serves up authentic Mexican dishes that will satisfy your cravings. The menu features a variety of taco options, as well as other traditional Mexican fare, such as enchiladas and quesadillas. And if you're in the mood for something sweet, try the churros for dessert.
5. JOEY Eaton Centre
JOEY Eaton Centre is located in the heart of downtown Toronto and offers a delicious array of tacos, including shrimp, chicken, and beef. The restaurant also offers a variety of sides, such as chips and guacamole, making it the perfect spot to enjoy a casual meal with friends or family.
The menu at JOEY Eaton Centre also includes a wide range of salads, soups, and sandwiches. Their signature tacos are made with fresh ingredients and can be tailored to fit individual tastes. Everyone can find something delicious at JOEY Eaton Centre with vegetarian and gluten-free options.
7. DaiLo
DaiLo is a modern Chinese-Canadian restaurant located in Toronto's Chinatown. The menu features a variety of small plates and dim sum, as well as larger entrees meant for sharing. The dishes are all inspired by traditional Chinese cuisine but with a modern twist.
The tacos at DaiLo are some of the best in the city. There are four kinds: braised beef, kung pao chicken, crispy tofu, and lamb shoulder. Each is served on a soft shell tortilla and topped with daikon radish, cilantro, and hoisin sauce.
If you're looking for a unique and delicious taco experience, you must try DaiLo.
8. Cactus Club

Café

First Canadian Place
If you're looking for a delicious taco in Toronto, look no further than the Cactus Club Café First Canadian Place. This restaurant is known for its fresh and flavorful tacos made with locally sourced ingredients. The Cactus Club Café First Canadian Place also offers a variety of other Mexican-inspired dishes, so you can find something to suit your taste. Whether you're looking for a quick lunch or a leisurely dinner, the Cactus Club Café First Canadian Place is sure to please.
9. The Carbon Bar
If you're looking for the best tacos in Toronto, you can't go wrong with The Carbon Bar. Located in the heart of the city's financial district, this restaurant is known for its inventive takes on traditional Mexican cuisine.
The Carbon Bar's tacos are no exception. These small plates are perfect for sharing, and each one is packed with flavour. The menu features classic and modern tacos, including options like carnitas (pulled pork), barbacoa (shredded beef), and a vegan option made with roasted mushrooms.
No matter what you order, you will surely enjoy your meal at The Carbon Bar. So, head to this delicious spot next time you're craving tacos!
10. Indie Ale House
If you're looking for a delicious taco in Toronto, look no further than Indie Ale House. This local brewery and restaurant are known for its amazing tacos made with fresh, local ingredients. The tacos are so famous that they even have a special menu, which includes options like the chicken tinga taco and the carnitas taco. And if you're looking for something unique, try the Korean BBQ beef taco – it's incredible!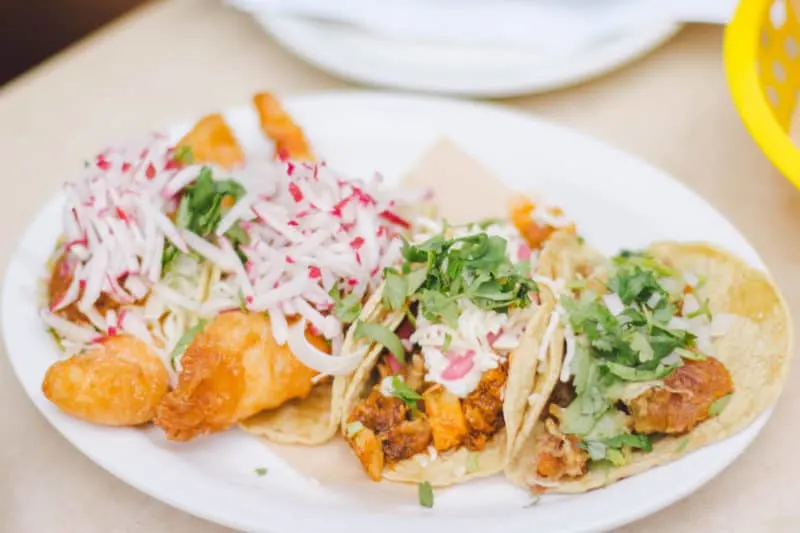 Tips for Eating Taco in Toronto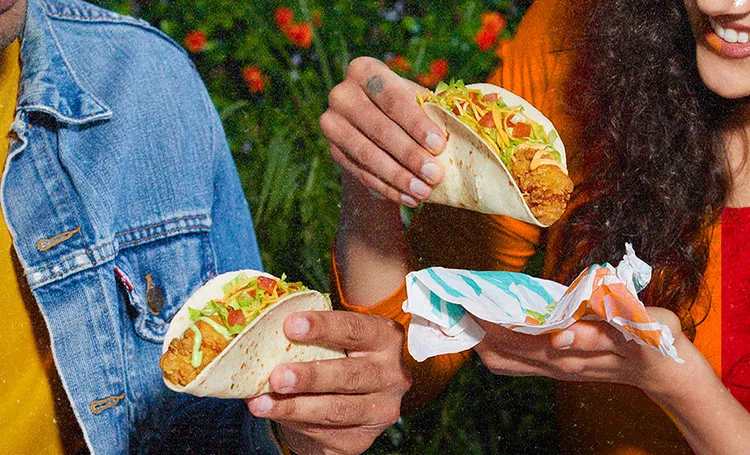 You won't be disappointed if you're looking for the best tacos in Toronto. Plenty of great places to enjoy this Mexican staple, and we have some tips to help you make the most of your taco-eating experience.
First, tacos are typically served on small corn or flour tortillas. It can be messy if you're not used to eating them this way. Use a fork if necessary, and don't be afraid to ask for extra napkins.
Second, take advantage of the toppings! Most places will offer a variety of toppings for your tacos, including sour cream, salsa, onions, cilantro, and cheese. Be sure to try a few different combinations to find what you like best.
Finally, enjoy your tacos with a cold beverage. A beer or margarita is always a great choice, but soda or water will do in a pinch. And don't forget to savour every bite – these tacos are too good to rush!
Interesting Taco Facts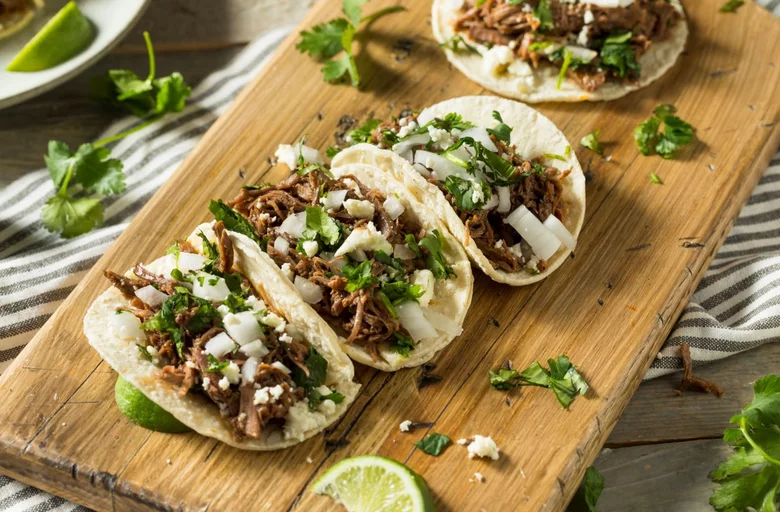 To make a good taco, there are three essential components to consider. The first and most crucial is the tortilla. A high-quality tortilla should be soft, pliable, and strong enough to hold all the fillings. The second component is the filling, which should be flavorful and moist. Lastly, the toppings should be fresh and colourful.
Now, here are some fascinating facts about tacos:
– The word "taco" originated from the Nahuatl term "taco," which means "half" or "in the middle." This name refers to how the tortilla is typically folded in half to hold the filling.
– Corn tortillas were most likely used to make the first tacos, as they are still the most widely used type of tortilla in Mexico.
– Tacos can be filled with almost anything, but some of the most popular fillings include carnitas (slow-cooked pork), barbacoa (beef), pollo (chicken), and Pescado (fish).
– There are no limits when it comes to taco toppings! Standard toppings include salsa, sour cream, cheese, lettuce, and tomatoes. However, you can also get innovative with your toppings by adding avocado, mango, pineapple, and chocolate sauce!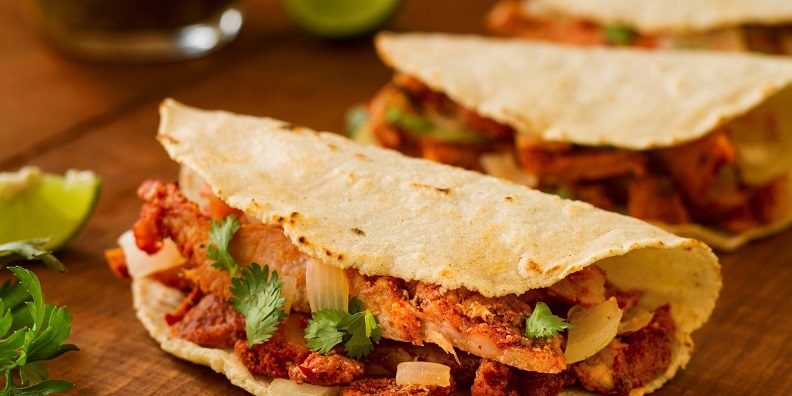 What types of tacos can I expect to find in Toronto?
Toronto's taco scene offers various options, from traditional Mexican-style tacos with beef or chicken to fusion tacos incorporating unique ingredients like Korean BBQ, jerk chicken, or tofu.
In Toronto, you can find classic tacos such as al pastor (marinated pork), carne asada (grilled beef), and pollo (chicken). These tacos are often served with fresh toppings like cilantro, onions, and lime.
For those looking for a twist on the traditional, Toronto also boasts an array of fusion taco options. You might come across Korean-inspired tacos with bulgogi beef or spicy kimchi toppings. Vegan and vegetarian options are also available with fillings like grilled vegetables or plant-based proteins.
In addition to the variety of fillings available in Toronto's taco scene, you'll also find different types of tortillas being used. While corn tortillas are commonly used in traditional Mexican tacos, some places offer flour tortillas or even unique alternatives like lettuce wraps.
Whether you prefer sticking to the classics or exploring innovative flavour combinations, Toronto has something to satisfy every taco craving. So, next time you're in the city, venture out and discover the diverse range of delicious tacos that await you.
Are there any vegan or vegetarian taco options available in Toronto?
Whether craving a classic taco or exploring unique flavours, Toronto has several establishments specializing in vegan and vegetarian tacos. These eateries often use plant-based proteins such as tofu, tempeh, jackfruit, or mushrooms as substitutes for traditional meat fillings.
Additionally, some restaurants offer creative fillings like roasted vegetables, black beans, or lentils seasoned with flavorful spices. These ingredients provide a satisfying texture and taste while ensuring a cruelty-free dining experience.
Explore popular vegan-friendly neighbourhood neighbourhoods like Kensington Market or Queen Street West to find vegan or vegetarian taco options in Toronto. Many Mexican-inspired eateries in these areas have dedicated sections on their menus, specifically highlighting plant-based taco choices.
Furthermore, online platforms and food delivery apps can be helpful resources when searching for vegan or vegetarian tacos in Toronto. They often provide filters or categories that allow you to identify restaurants offering these options quickly.
How much can I expect to pay for tacos in Toronto?
Prices can vary depending on the restaurant's location, the type of tacos you choose, and any additional toppings or fillings. On average, you can expect to pay around $3 to $5 per taco in Toronto. However, this is just a general estimate, and prices may differ depending on where you go.
In downtown areas or popular tourist spots, prices may be slightly higher compared to suburban or less crowded areas. Additionally, specialty tacos or those with premium ingredients may have a higher price tag.
It's always a good idea to check out different taco places in Toronto and compare their menus and prices before deciding. This way, you can find a place that suits your budget and preferences while enjoying the delicious flavours of Toronto's taco scene.

Latest posts by EnjoyLivingCanada
(see all)