Attention all donut lovers! Are you on the hunt for the perfect sugar rush? Look no further than Toronto, where we've scoured every corner of the city to find the ultimate selection of mouth-watering donuts. From classic glazes to unique flavours and textures, our list has got it all. Get ready to indulge your sweet tooth as we take you on a delicious journey through the best donuts in Toronto!
This guide will explore some of the best donut shops in Toronto, highlighting their standout flavours and what sets them apart. Whether you're a fan of classic donuts or looking to try something new, this guide will help you find the best donuts in Toronto.
The 6 Best Donuts in Toronto
1- Glory Hole Doughnuts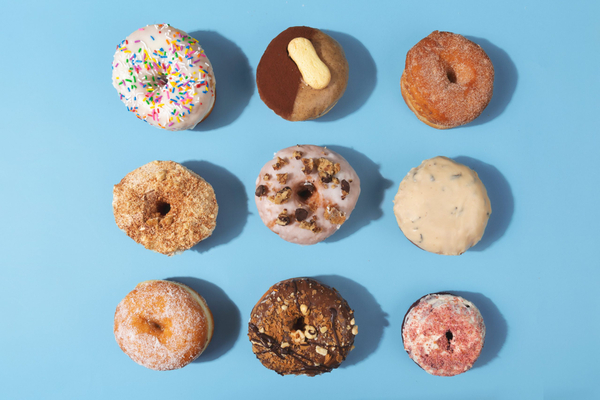 There's nothing quite like a fresh, warm doughnut, and if you're looking for the best ones in Toronto, you'll want to head to Glory Hole Doughnuts. This local shop has been serving fresh, handmade doughnuts since 2014, quickly becoming a city favourite.
Glory Hole Doughnuts offers a selection of both classic and creative flavours, all made with high-quality ingredients. You'll find something to satisfy your sweet tooth, whether you're craving a simple sugar, cinnamon doughnut or something more adventurous like their salted caramel or matcha green tea flavour.
And if you're looking to indulge, try one of their filled doughnuts; the chocolate hazelnut is an absolute must-try. No matter your choice, you won't be disappointed with a visit to Glory Hole Doughnuts.
2- Bloomer's on Queen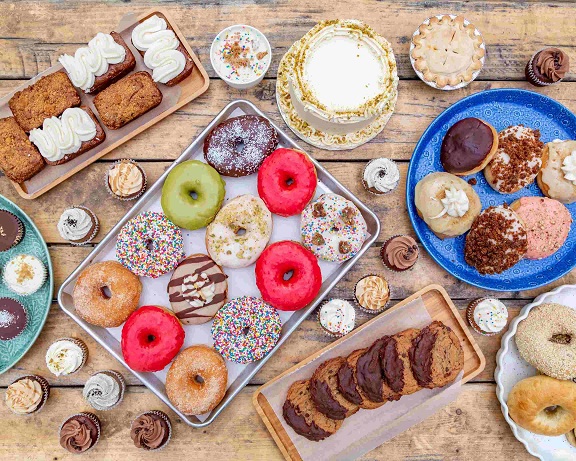 If you're looking for a delicious donut in Toronto, Bloomer's on Queen is the place to go. The donuts at Bloomer's are made fresh daily and have a wide variety of flavours. The staff is friendly and accommodating, so you'll have a great experience at Bloomers.
3- The Rolling Pin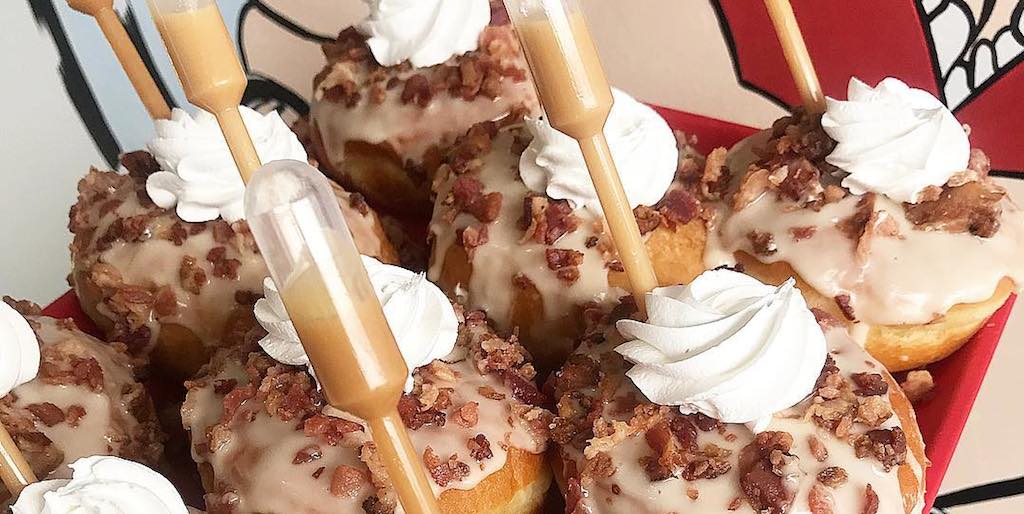 There's no shortage of great places to get donuts in Toronto. But if you're looking for the best of the best, you need to check out The Rolling Pin.
This local spot has been churning out fresh, delicious donuts since 2014, and they've quickly become a city favourite. Whether you're looking for a classic glazed donut or something more adventurous (like their maple bacon donut), The Rolling Pin has got you covered.
And if you're feeling indulgent, you can even order a dozen donuts straight to your door. So what are you waiting for? Head to The Rolling Pin and treat yourself to the best donuts in Toronto!
4- My Zaidy's Bakery
My Zaidy's Bakery is the best place in Toronto for donuts. They have a wide selection of donuts, including traditional flavours like chocolate and vanilla and more unique flavours like blueberry and lemon. The donuts are always fresh and made to order, so you know you're getting a delicious treat.
5- Port Union Bakery
Port Union Bakery is one of the best donut shops in Toronto. They have different donuts and unique flavours you can't find anywhere else. The staff are always friendly, helpful, and willing to go the extra mile to ensure you're happy with your purchase. The prices are also very reasonable, especially considering the quality of the product. I highly recommend this bakery to anyone looking for a great donut shop in Toronto.
6- Machino Donuts (formerly Machino Cafe)
Machino Donuts is a donut shop in Toronto formerly known as Machino Cafe. The shop specializes in unique and innovative donut flavours, and they are constantly coming up with new and exciting flavour combinations.
The shop's most popular flavour is the 'mochi donut,' made with mochi rice flour and filled with a sweet red bean paste. Other popular flavours include the 'matcha green tea' donut, the 'black sesame' donut, and the 'Nutella donut.
In addition to their delicious donuts, Machino Donuts also offers a selection of other pastries, including croissants, muffins, and cookies. They also serve coffee, tea, and other beverages.
Different Types of Donuts Available in Toronto
There are many different types of donuts available in Toronto. Some of the most popular types are listed below.
Glazed Donuts: These donuts are coated with a thin layer of sugar syrup. They are often decorated with sprinkles or other toppings.
Chocolate Donuts: These donuts are coated with chocolate icing. They may also be filled with chocolate cream or other fillings.
Jelly Donuts: These donuts are filled with fruit jelly. The jelly is usually enclosed in a thin layer of dough.
Cream Donuts: These donuts are filled with creams, such as custard or whipped cream. They may also be coated with icing or glaze.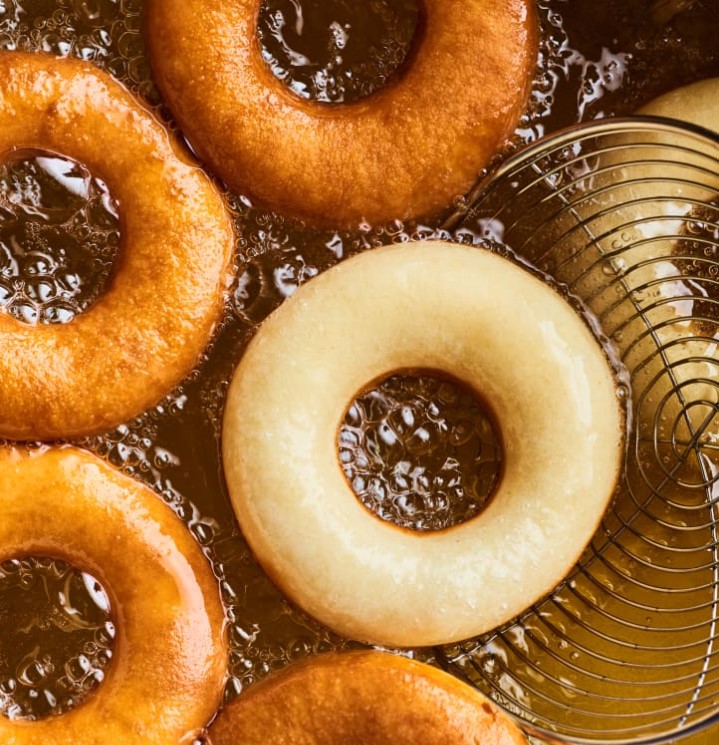 Are there any 24-hour donut shops in Toronto? 
If you're craving a delicious donut at any time of the day or night, you might wonder if there are any 24-hour donut shops in Toronto. Fortunately, the answer is yes! Toronto is home to several establishments that satisfy your sweet tooth around the clock.
These 24-hour donut shops cater to those late-night cravings or early-morning treats. Whether you're a night owl needing a sugary pick-me-up or an early riser looking for a fresh pastry, these shops have covered you.
With their extended hours, these donut shops provide convenience and accessibility for residents and visitors alike. So, next time you find yourself in Toronto craving a delectable donut at any hour, rest assured that options are available to satisfy your craving.
Toronto has several 24-hour donut shops, including Tim Hortons and Krispy Kreme. Some independent shops may have extended hours or be open late on weekends.
 Can I order donuts online or for delivery in Toronto? 
Yes, you can order donuts online or for delivery in Toronto. With the rise of online food delivery services and their convenience, many donut shops in Toronto now offer the option to order their delicious treats online and have them delivered right to your doorstep.
To order donuts online in Toronto, you can visit various local donut shops' websites or mobile apps. These platforms usually have a user-friendly interface where you can browse their menu, select your desired donuts, customize your order if needed, and proceed with the payment. Once your order is confirmed, the donuts will be prepared fresh and delivered to your specified location within a given timeframe.
It's important to note that availability may vary depending on the specific donut shop and its delivery service coverage area. Therefore, checking with individual establishments about their online ordering and delivery options before placing an order is advisable.
Ordering donuts online or for delivery in Toronto provides a convenient way to satisfy your sweet cravings without leaving the comfort of your home or office. So indulge in some delectable treats with just a few clicks!
Many of Toronto's donut shops offer online ordering and delivery through websites or third-party services like Uber Eats and DoorDash. Check individual shop websites for more information.
 Are there any donut festivals or events in Toronto? 
One notable event is the Toronto Donut Fest, which takes place annually. This festival brings together local bakeries and donut enthusiasts for a day of indulgence. Attendees can sample delicious donuts from different vendors, participate in fun activities, and even vote for their favourite donut.
In addition to the Toronto Donut Fest, various other food festivals and markets in the city often feature donuts as part of their offerings. These events allow exploring different flavours and styles of donuts created by talented local bakers.
To stay updated on upcoming donut festivals or events in Toronto, it is recommended to check local event listings and food blogs or follow the social media pages of relevant organizations or businesses specializing in desserts or food events.

Latest posts by EnjoyLivingCanada
(see all)